Music is an integral part of our lives, and many of us enjoy playing an instrument as a hobby or career. In recent years, portable keyboards have become very popular with piano practitioners because they are powerful and compact. Donner DEP-20 is a very popular portable keyboard for beginners.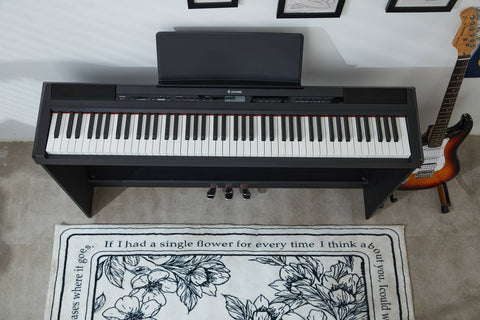 The DEP-20 portable keyboard with stand is a versatile instrument that offers a range of features. It features an 88-key full-weighted hammer-action keyboard, providing a realistic playing experience similar to that of an acoustic piano. With 128 polyphony, you can play complex pieces without worrying about notes being cut off.

The keyboard is equipped with two 25W speakers, delivering clear and powerful sound. It offers 238 different tones, allowing you to explore a wide variety of instrument sounds. Additionally, there are 200 kinds of rhythms available, providing a diverse selection of musical accompaniments.

To assist with learning and inspiration, the DEP-20 includes 100 demo songs that you can listen to or play along with. The dual keyboard feature enables you to split the keyboard into two sections, allowing for different tones or playing with a partner.

The keyboard also features an MP3 player, enabling you to play back your favourite songs directly from a compatible MP3 device. The MP3/MIDI interface allows for easy connection to other MIDI-compatible devices, expanding your musical possibilities.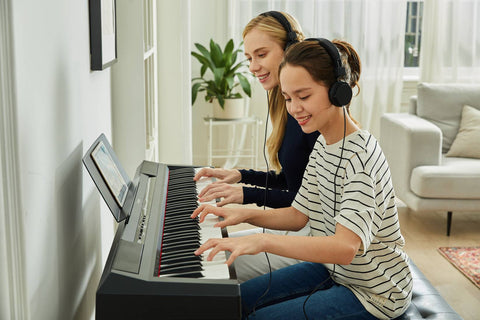 For private practice sessions, the DEP-20 includes dual headphone jacks, allowing you to connect two sets of headphones simultaneously. This is particularly useful when practicing with a teacher or when you don't want to disturb others.
The keyboard is equipped with a 3-pedal system, providing sustain, soft, and sostenuto pedals for enhanced expression and control over your playing.

Functionality & Features: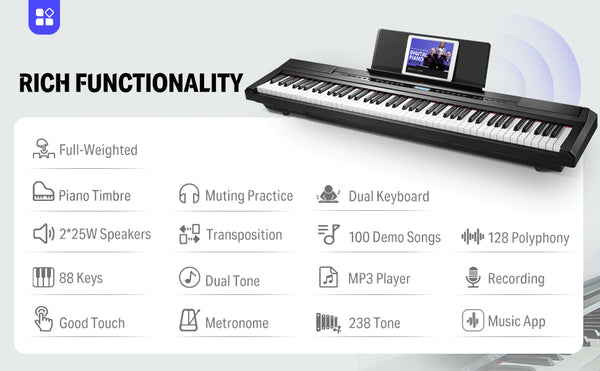 Video DEMO & Review:

Overall, the DEP-20 portable keyboard with stand offers a comprehensive set of features suitable for both beginners and more advanced players. Its combination of realistic keyboard action, versatile sound options, and convenient connectivity make it a reliable and enjoyable instrument to play.